Here's a few pics from yesterday's ride with BGW, Ian and Jes. Was much fun. Think we did about 20 miles in the end???
BGW trackstanding like a pro *is not worthy*
Was a bit wet in places though!
Sunday
- Racer's Guild at Stile Cop
What can I say? Despite the horrendous (and I mean horrendous) April weather (4 degrees, gale force wind and persistent heavy rain) we headed up to Stile Cop for the Racer's Guild timed sessions. To race a track that neither of us had ever ridden (CDL).
I was soooo pleased at how well I learnt the track and got a couple of cracking lines sorted. Pleased at how much I now enjoy riding in the mud and rain and pleased at the fact we even went
I was NOT AT ALL pleased that I negated all my good work doing so by making a persistent basic error on the finishing straight of drifting wide and ending up trying to pedal though a swamp, thus loosing me a lot of time
This is Ian getting the right line to the finish: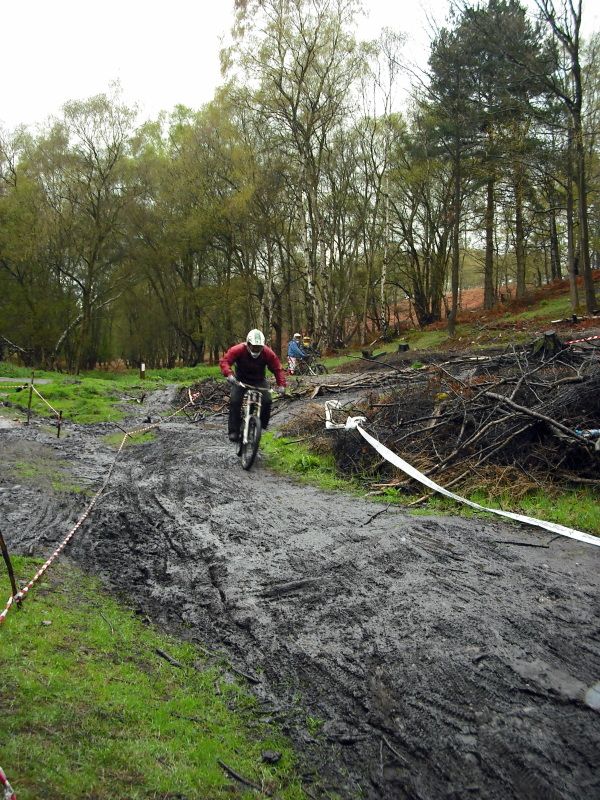 Ian did well on his new Trek Session, much better than the Orange 5 - DH bikes ftw! He still managed to look super grumpy though
Was the only girl again and am waiting for times so don't yet know how I compared to the guys. I really want to see my times move up to around average of the senior men, but this is not going to happen if I continue to make stupid mistakes!