Friday
- work was horrendously intense and busy on Friday, as was the fact I had struggled to sleep, or eat, again. Life is rather chaotic at the moment and I paid for it by Friday evening. I had organised a ride out and had a vegan friend coming down a fair way so had to come out - I literally got home, got straight in riding gear and went straight back out, but after an hour and a half I had to quit as I was just too tired for any technical descending. Luckily goog took Rex down the other two trails we had planned, leaving me to cruise back with my other riding buddy to try and chill out.
Saturday
- I had to admit defeat after still struggling to eat and sleep. I can't work out whether it was just stress or a bug, but either way, I was pretty wiped out on Saturday and had to spend the day chilling out.
Sunday
- Wide awake at 5 am, but a push about DH day had been planned and I decided to go along even though I was still struggling for calories and sleep. How glad was I that I did? After flagging on the initial push up, I just thought I would session the top section for a few runs then sit about watching everyone else. It didn't take long for me to abandon that idea though, the bike was feeling amazing, the trails were running soooo sweet and, even though I should've been physically drained, I was running high on adrenalin. Spent a lot of time sessioning 'old school' and was clearing stuff easily, too easily sometimes - especially when I was overshooting the transitions of the big jumps
That weird feeling back end? It no longer feels weird, it feels BLUDDY AWESOME.
So, as it was 'jump day', I decided to have a look at a big ol' scary gap jump on 'rib tickler'. It's a pretty cool jump, created over two berms which you can see me riding through here: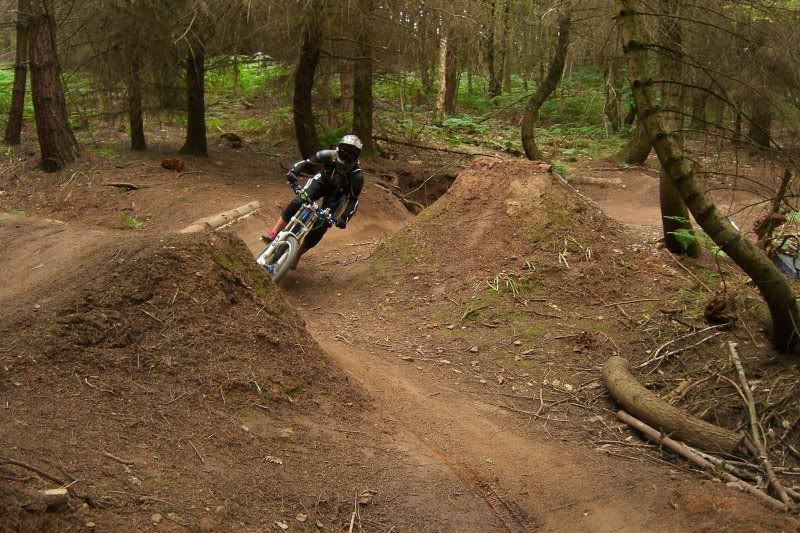 It didn't look too bad, but then I scared myself thinking that I must have lost the plot if I didn't think it 'looked too bad'. So I sensibly got the jump demon Johnstuff to test it out first.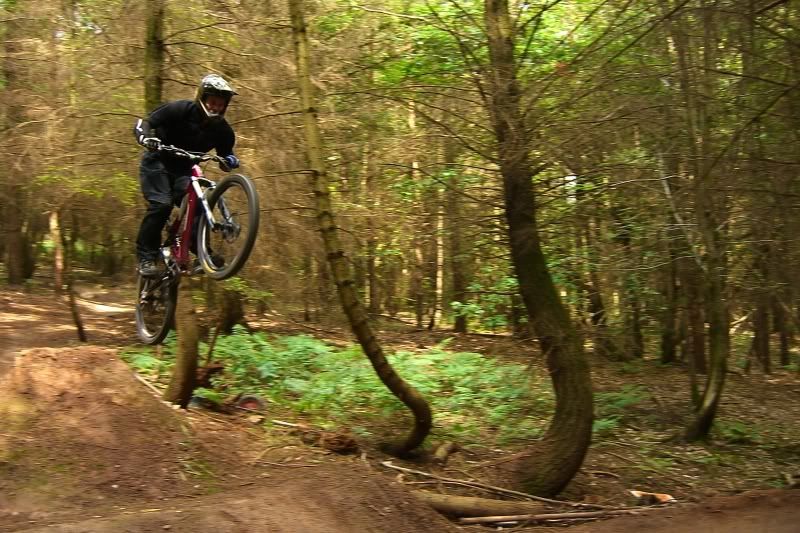 He made it look easy. So I had a go. It was easy (screen shot grabbed from a video my mate took!)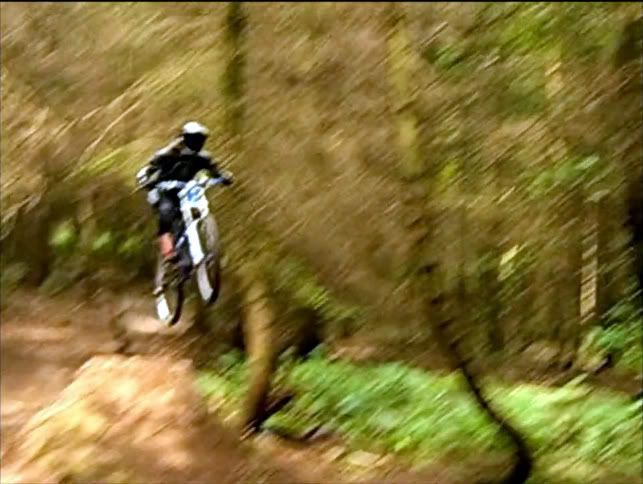 I'm a bit dumbfounded to be honest. Where the hell my 'fear of the gap' has gone, I do not know. It can stay there though!