Wednesday
Early 4 am start = too tired to train
Thursday
Had to make up some CV training, but couldn't face getting soaking wet through, again. So headed to the gym and ploughed through 30 minutes on the stationary bike. Constant pace and I was pleased with the level of work I put in. Unfortunately it's not shown on the HRM chart, unless my heart decided to do something rather strange 5 minutes in, I guess I forgot to wet the chest strap!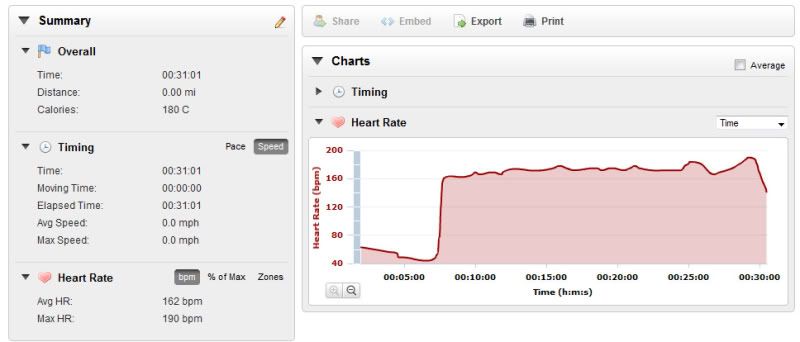 Decided to have a week off back squats before starting a new cycle.
Front Squats
W/U: 16, 16
25 lb plate: 10
Bar: 5, 5, 5
25 kg: 5
30 kg: 5, 5, 5 - form left something to be desired I think - easily hitting depth but proper tipping forward and having to fight it.
Leg Press
6 block: 10
8 block: 10
10 block: 2
9 block: 4, 6, 6
Abs
Press-ups
: 10, 10 - felt tired
Friday
Rest
Saturday - XC Malvern
Managed to organise a ride for a few bestest riding buddies on Saturday.
Easy paced trip out just milling around favourite descents and making the most of the rain-free window after the downpours of late. Finally got a replacement camera for my beloved J10 that died last year - a £35 second hand bargain that is far and away better than the supposedly 'upgraded' finepix I have to suffer for work.
Mojo has gone walkabout. Had a rather abrupt rider-ground interface and was suprised to find no serious resulting damage.
Still, enjoyed the trails none-the-less.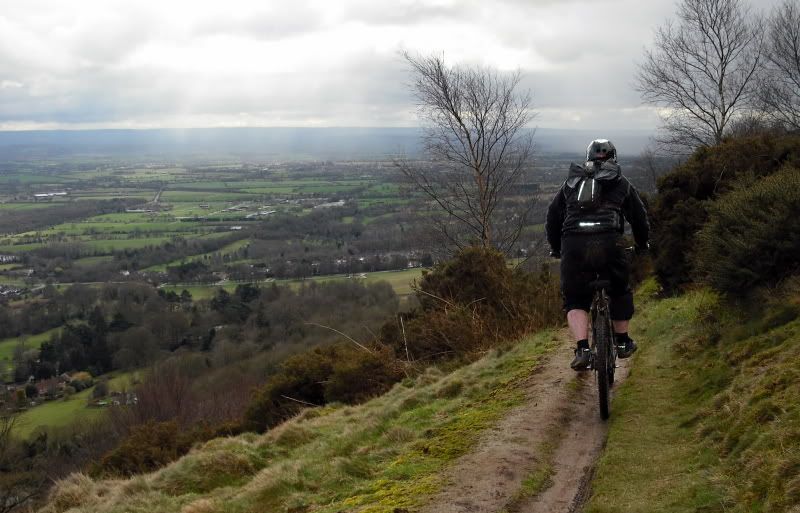 Time: 3:40:22
Distance: 12.37
Climbing: 831 meters
Av HR: 149
Max HR: 189
Sunday - DH Day
Met Johnstuff at Hopton for some HT DH practice.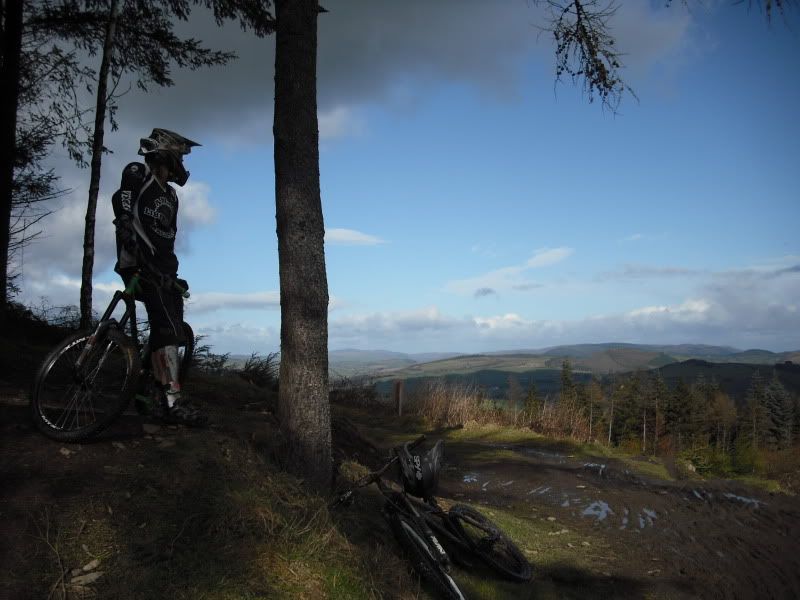 Felt wasted. Sore from the crash on Saturday and generally below par. There is no way it can be overtraining, surely? I do so little training compared to a few years ago. Legs were on fire though, even descending I found my quads were cramping. Couldn't get the front wheel to behave half the time, ended up crashing after landing a drop off line and having no way of correcting. Another lucky one with no lasting damage, but I'll be heading for a big one if I carry on riding like an egjit.
Was great to be on the HT's though, especially as Spring finally turned up and, at least for part of the day, fought back the hailstorms to give beautiful views.
HT's on downhill courses = so rewarding when things go right. So scary when they don't!
Monday
Rest
Tuesday - Bench Day
10 minute warm-up on bike
Bench
Bar: 10
25 kg: 10
30 kg: 10
35 kg: 10, 10, 8
Shoulder dumbell press
7.5 kg's 10, 10
20 lb: 8, 8, 8
Lat pulls
4 block: 10
6 block: 10
7 block: 4, 4
6 block: 15
Abs