bob_summers wrote:

downhillingdemon wrote:loosing Saturday to stick my head down trial pits

one can only wonder what that might be

is that a dropper post or suspension on your HT? i am curious about both...
You probably don't want to know about trial pits, it's rather dull. I will stick a few photos up when I get them off my camera though!
It's a gravity dropper - I'd not use any other type of dropper post now, well, not until the others catch up with reliability and ease of maintenance. I certainly can't do without it for riding, most of my trails are long up, long down kind of jobs and it's just super to be able to get the saddle right out of the way for techy descents/drops etc. I ride with it down a lot actually, even when milling round town etc. Everything is so much easier without a saddle in the way!
Saturday
Rest day
Sunday
A last minute change of venue to a muddy Ribbesford left me rather apprehensive. Last time, it wasn't the best of rides. Too many roots on too many awkward corners, and that was in the dry.
This time though, I couldn't believe how confident I felt in the mud, over the roots, in general. Even the first roll down was ok, and after that, I just got quicker and quicker through the singletrack. I put it down to partly being a far better rider than last time and having a wet scream up front. The biggest factor though, an I-pod. Calm, dark music silences the white noise of bike, windrush, inner monotone and leaves just surreal focus.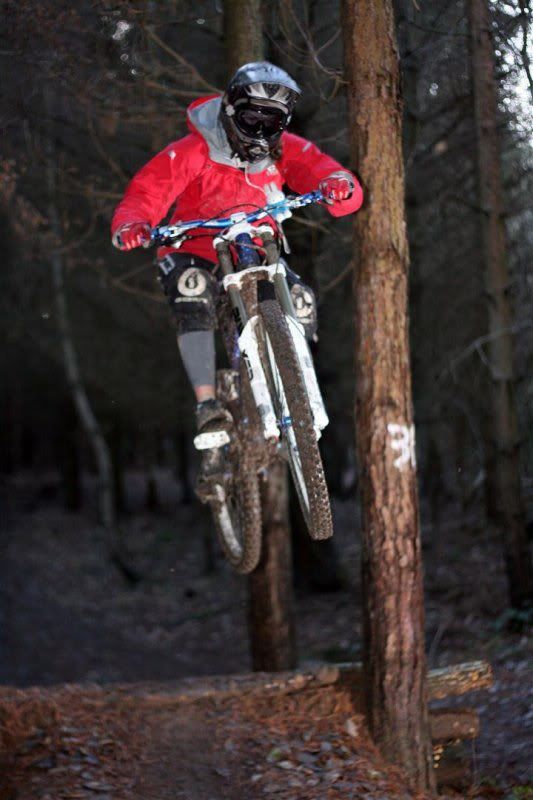 Of course, the best bit of the day, as always, was the company. Such a great group of riders out, including a new vegan face in the form of Rex, who took the change from his normal rigid-singlespeed trail centre riding to full-suss DH all in his stride, even with a non-existent front brake. Paul, Johnstuff and Jarmonkeys deserve special mention for hitting the big doubles, despite the mud. goog was flying as per normal, until stopping to set up the DSLR with flash. His pictures just keep getting better and better.
This is Johnstuff styling it up as always!
The day for will remain immortalised in one photograph though....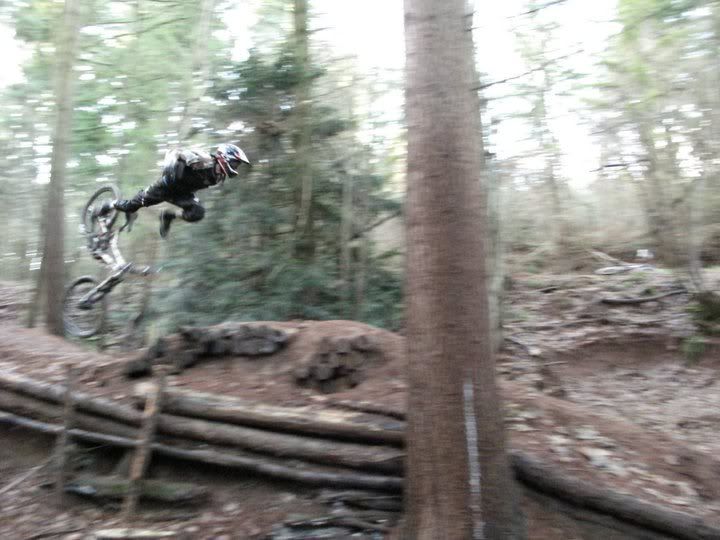 Picture taken by Johnstuff, this is Jarmonkeys on an epic tactical dismount after a slightly overcooked run-in. Jarmonkeys, as always, bounced like a child and survived without a scratch.