Oh Vineman. The Ironman 70.3 that I concentrated on for 5 months. Raced a lot less than I'm used to due to not wanting to give up training days due to tapering and/or recovering for days. I knew the somewhat monotonous months would pay off when it came to mid July.
Although the training volume was lower than what I've been used to, the total intensity made almost everyday tough. I could easily be assigned a 2 hour ride and in the end the legs like a 4 hour ride. It was rare that there wasn't a day that I was anxious for a certain part of the workout, but I lived by the moto "if you aren't afraid of your workout, you're not working hard enough." So overall I knew that my fitness was better than my 5:03 showing at a relatively flat 70.3 that I did last September.
My expectations for the race were reasonable given the effort I gave in my training. Looking at my race test workouts, that usually happened 1-2x a month, I believed that I could give a solid 4:55 showing even tho it was a harder race than my last 70.3s.
The days prior to the race I tried to do the little things to make for my best performance. Lots of easy digestible meals (such as mono fruit meals), good sleep (11ish hours a night), and just a lot time horizontal. I wish I planned it better but I didn't get much sleep the friday night before the race. Since I needed to leave early to get to the town where the race was I really only had about 7 hours of sleep. Considering most testing agrees that the sleep 2 nights before is the most important, I messed that one up. Also since I had to wake up a lil after 4am on Sunday morning I only got about 6-7ish hours that night because, like most people I'm sure, I didn't sleep that well.
The morning of I woke up, drank a liter of water, and started eating some dates. I've had some good success with dates only before my training so I had about 8-10. For breakfast it wasn't as much as I'd recommend, but I just wasn't hungry. Probably too anxious. Plus I was running behind schedule since my wave was at 6:38. The campsite me and my buds were at was about 3.5 miles from the swim start so I just biked there. Considering the traffic on the 1 lane road I was glad I biked.
Setup my transition and realized I left my swim cap in my tent. Good job, Mike. So I ran around trying to find the organizers tent and they had a few spare caps knowing that people like me would forget to bring them. Went back to my transition site and heard, "Ok we're now 3 minutes away from the Mens 29 and under wave!" I looked at my watch and mine was a lot slower than theirs apparently. I put my wetsuit 1/2 way on and rushed down to the beach. With less than 30 seconds to go I made it into the water behind the start rope with the other 100+ guys. So it looks like my only swim warmup was the 25 yard sprint to the start line....I should've woken up earlier.
The gun goes off and like every swim start in a tri, it's an adrenaline sprint for the first 100-200 yards before everyone find a good rhythm. I knew the first 1/2 of the out and back swim was going to be a little slower pace and time wise since it's slightly upstream. Due to that, although I almost try to every time, I tried to find a swimmer slightly faster than I to get behind so I can draft a bit. Unfortunately I couldn't find a good one for the whole time but I find a few here and there before I slowly passed them. At some points in the swim I noticed some people standing up taking a breather, the water was that shallow. Usually right after I saw them I passed them but also scrapped my fingers on the bottom of the river, both of these happened multiple times. Luckily the rocks on the bottom didn't cut me up at all. Although it seemed a lot longer than usual, passing for what it seemed like 10+ too many buoys we finally made it to the turnaround. Took a quick look at my watch, 18.50...crap. So it's either the current is really strong and i'll make up a lot of time on the way back, or all this swimming improvements aren't showing today. I had hope it was the water so I just kept on going.
On the way back to transition, and the finish of the swim, I noticed a slight stitch in my right side. A mild stomach cramp I'd say. Not sure if it impacted my total swim performance but it wasn't a big enough deal to make me slow down or take a breather. With about 200 yards to the beach we come under the bridge that we crossed going out. At that moment I peeked my headout to check my bearings and... WHACK! This dude swimming next to me just elbows me in the face. Although no one could hear anything I was yelling under the water "FFFuuu!" He nailed me right between my eyes. Water filled up my left goggle and was all of a sudden swimming with my left eye shut and my right eye tearing up. For a split second I thought about stopping and just readjusting everything and making sure i'm not bleeding but I doubt that would've changed the fact for me to just keep going. Plus I was only 2-3 minutes from the end when I could check. Despite a few course alignments and a slow first 1/2 the swim was going really well, however my swim shoulders feelt like they were on fire...expected.
Finally made it to shore and after making a few first step wobbles to get my balance I check my clock which says 33 minutes. Alrighty then! A swim that was roughly 4 minutes faster than my best 9 months ago, I'll definitely take it. I was expecting somewhere around 34-36 to still have a chance at my overall goal so it's good to start on the right foot. The worst motivator for the 56 mile bike ahead is by having a slow swim that sets you back. Headed to my bike, checked if i was bleeding (I wasn't) took my swimming stuff off, bike gear on, and headed to the mount line. Saw some friends which was cool to see and headed off.
I did the bike course twice before after some hard training days prior with some ok results. Definitely not the performances I was hoping, but something that was okay given the circumstances. I knew though that this was a race and I knew that the effort I would give was all or nothing, unlike those race practices. Plus I new my legs were rested for this effort. So I hit the start harder than I have prior and started off. I think a main reason the race starts before 7 is to get as many people on the bike course before the roads get too busy since over 90% of the bike route is still open to road traffic. Since I started early I didn't have many of these problems. Also unlike previous years where the race was sunny, it was overcast. Fine by me. No real wind to speak of either which was nice. I just put my head down and started goin. Saw a buddie as I biked by our campsite and kept going as I did a half wave to him.
At about mile 6 the terrain was mild up and down elevation, very limited flat ground for 8-10 miles. The current road was also very poorly paved. The pre-race meeting mentioned this and said that due to limited road funding there was going to be some potholes. A person cycling next to me as I made a pass sarcastically joked about how great these roads are. Between my slightly labored breathing I laughed with him. Although the jostling of the bike from the terrain wasn't a big issue, I really didn't want to get a flat on the race. I know I'll surely eventually get a flat tire in a race in my life, but I didn't want to get one now. I was on a mission and didn't want anything to impact that.
The first aid station was at mile 18. I tossed my empty water bottle and got handed some water. They were plastic water bottles and not cycling bottles. In a sense I understand why they would do this. It's cheaper and these bottles fit exactly in the bottle cages of the same size, but what I didn't like were the nozzles on them. I won't try too hard to explain how they were, but they were the plastic kind that even if opened there flap closes almost instantly. So the first time when I tried to take a sip I just squeezed a good amount of the bottle all over my mouth, on the bike, and down on the road. Ok... tried to fix the nozzle, same thing. Then I just took it and used my mouth to keep the nozzle open and take sips. The distance between the aid stations was just long enough for me to forget this issue so I would lose some water the next time I would try to take a sip from the next bottle. Despite this issue I never felt that I was too dehydrated on the bike, but maybe I was wrong.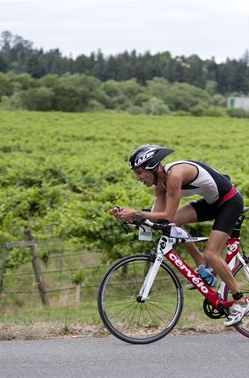 At this time the weather turned to one of the last things that I expected at the race, rain. It wasn't heavy rain but during roughly miles 25-40 it was a good sprinkle. Go figure, when for months I was concerned about how hot this race was going to be, it rains. Luckily the rain didn't impact my race much nor did it create and close calls in terms of crashing. However my lack of attention to the road did. Around this time I had one arm in the aero position as I was reaching down for water to refill my aero bottle I slowly was swerving off the road into a ditch. Right before I fell off the road I pulled back onto the road with just one hand on the tri bars. Close call, better pay more attention. Compared to my other triathlons this bike course was a bit lonely. I think the rain made kept most of the people off the roads to cheer people on. Not much bike passing was happening at this stage of the race either. Seems that everyone within a few miles in front and back of me were going at a constant clip.
At right around mile 40 your body and mind start to get really tired of being on the bike and in that aero position. Also an issue popped up that I've never really felt before in racing or in training....Tiredness. Not just tiredness in the legs and from racing, everyone gets that. What I mean is just this feeling of lack of energy. The feeling of not being able to push harder than you know you can. I've been drinking and having gels as often as I'm used to so I don't think I'm 'bonking' but rather just can't get my speed into that racing gear intensity that I'm used to.
Mile 44 is the Chalk Hill climb. I remember in my training runs through the bike course this one was the doozy. Although it is the hardest climb of the race, in reality its not too bad. I was feeling rather tired going up this 4 minute climb, but despite the tired legs I definitely didn't feel that I had that push like I had 20 miles ago. I trained myself over the past few months to be 'comfortable' with being able to push beyond my comfort zones, however this was a different feeling. It didn't feel like I was glycogen depleted or dehydrated, I was just out of energy. I pushed to the top and at the crest of the hill there was a group of 3 ladies dressed up as nuns and priests saying, "it's all downhill from here." Not sure if they meant it literally and figuratively, but i'll take it. Mostly, mostly, downhill or flat from here....till the run.
As I expected the last 10 miles were killer. Shoulder, calves, quads, neck, hamstrings, all were burning. The only good thing was that we were getting closer and closer to town so there were more spectators cheering us on, plus the light rain has stopped. The last 2 straight miles seemed endless as the dismount line seemed to never get any closer, but hey I guess what was I supposed to expect. Ended the bike with a 2:48. Not an explosive bike but a result that was in my range of expected times. So I couldn't be too down on myself. Plus I was still in range of my overall goal(s).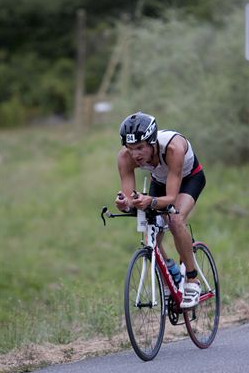 Finally got off my bike and started to get in 'the zone' to make a really great run. My running training was really good and I worked really hard to see some really great improvements in training. I racked my bike and put on my socks, shoes, visor, and sunglasses. Started to head out on the run.
As planned I used the first mile to get my running legs going because as any triathlete knows, running after swimming and biking is way different than a straight running race. I stayed within my goal of around a 6.50 first mile and planned to descend my pace the next 12 when I started to warm up my running muscles. At about the 1.5 mile mark I saw the first two pro's roaring to the finish line from the opposite direction. That was a pretty cool sight to see. For the next 3 or so miles I saw many of the pro's that I've only heard of or seen through tv or video. Although that part of the race was cool, my own race started to go downhill fast.
At about the 2 mile mark I noticed that I wasn't feeling 100%. My legs felt alright, and I wasn't breathing hard at all, but I just had no energy. I didn't feel hungry, or dehydrated, but that feeling I felt on the bike came to me on the run with more intensity. My pace started slipping, and at that time I noticed how hilly this run actually was. I didn't check out the run course in person prior, I didn't want to, but wow some of these hills were really intense. They were short, but rather sleep at points. That did not help my situation. At about mile 3-4 I knew I was not having a great day like I usually do in racing, and training. I tried to take extra fluid, sports drinks, and fruit, but nothing helped. At that point I came to the realization, with my pace slipping and my goals slipping away, that this would just be a run just to finish. I'm sure many people are used to getting passed on the run or having 1:40+ run times, but this was my best of the 3 sports. I'm like that guy who's dad pays big bucks to get him into an ivy league school. When it came to the run everything worked for me and all I do is pass people and get a run thats ranked in the top 5%, until today.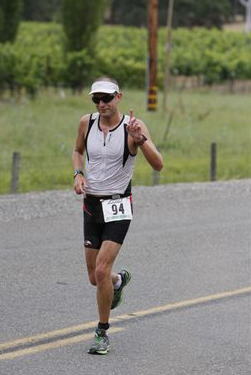 For the next few miles I saw some friends on the course and it was nice to see them, gave me a little pick me up, but nothing enough for a miracle. "We'll I guess everyone's entitled to a bad day", I joked a bit. All of them were athletes too and they understood. The last few miles weren't nearly as bad as I expected. The worst part of it was that I was going so slow the miles just dragged on. As this point in the race my avg. mile pace was slower than my warmup pace for my long runs. At points I just wanted to walk, but I just had too much pride. Although I couldn't go any faster my body felt kindof ok considering what I have done for the day. I was barely breathing hard and my legs weren't entirely sore. They were a bit but not screaming in agony like they should. So I'll take that as a good thing. My legs had the power and ability to push harder, but other parts of my body just weren't giving the effort today. I finally finished with a 1:44 run. Something I'd definitely like to forget. I was expecting, not hoping...expecting, a sub 1:30 run. Under 1:26 was definitely reasonable on a regular day, even with the up and down elevation. I just didn't have it. Ended with a 5:11 time. Not even a personal best.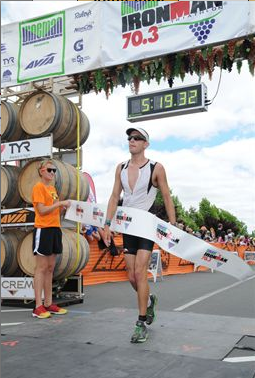 Looking back at the race I felt the issues happened 1/2 way through the bike. I wish I could say directly why but it had to do with either race day nutrition, hydration, or sleep. I felt I ate enough calories/carbs so it's probably not that. Could've been sleep because my sleep 2 days before was only about 7 hours and for being the most important day to get a lot of hours, I didn't. Still wasn't a super low number but I'm used to getting 9+ the nights building up. Looking back in terms of hydration, I should've drank more. Although I didn't feel thirsty for most of the race, I never had to 'relieve' myself for 4+ hours. I consider myself dehydrated in training if I don't feel an urge to 'go' over 2 hours from the last time. The only time I went was at about mile 9 in the run and even then I kind of forced myself to go. I drank 1-2 liters before the race, around 3 during the bike, and water at almost every aid station, but still nothing. Not sure exactly what it was but it's not normal to not feel an urge to go #1 at all for that long while training or racing.
Although everyone has a rough day I was disappointed that my bad day was for Vineman. I made a lot of personal sacrifices and put a lot of effort in this race alone. The bright side is that although my 5 months of preparation didn't show up for that one morning, the fitness is still there. I will show it off and improve off of it. I learned a fair amount about how hard low volume training really works and can't wait to see it more applied on races. My next race is another 70.3 on Sept. 11 in San Diego. A super flat course and hope that it all comes together then with a decent PR.