After last years performance at the Big Kahuna Triathlon (BK), I knew I wanted to come back to this race to finish out my triathlon training season. I mainly wanted to compare my then fitness/speed to now.
I learned at that race a year ago that my biggest limiting factor was my bike fitness. I already knew then I was not a strong cyclist and last years race was more about having a consistent effort day and finishing. I was not particularly used to the 56 mile bike distance that was going to be covered and I only ran my first official ½ marathon race a week prior. I knew I'd be able to do the whole triathlon distance, but more of with a mentality of being conservative to finish and less of actual racing to pace well. The swim was canceled last year due to fog, this year the weather was better.
My training in the summer months leading up to this race was not ideal. I crashed my bike and landed hard on my left side which kept me out of biking and running for over two weeks and swimming out for over 6 weeks. That trauma to my body healed so slowly than what I am used to that I was just glad I didn't injure myself permanently. I was planning to do around 4 olympic distance triathlons (.93 mi swim, 24 mi bike, 6.2 mi run) leading up to the BK with the training emphasized on the ½ ironman distance for my last race (1.2 mi swim, 56 mi bike, 13.1 mi run). However in reality I only raced one Olympic tri in May. So it was four months of no tri racing before BK. Although I got through that aspect, racing often really kept me motivated to train hard last year and made the training more enjoyable. This year was not like that and many of the weeks became very monotonous. Even though some of the days were boring, I was happy with my amount of training once I was fully healed again. I knew that my run was not the big limiter, it was the bike. The bike portion is usually ½ of the overall race, in time, so I knew I had to improve on that. My swim is also rather weak, but I new some good workouts that would help get the most 'bang for buck' out of three swim sessions a week.
The last two months before BK I usually biked 4 times a week, swam 3 times, and ran 3 with one of the bike/run workouts put together. I built up to biking every Sunday at minimum 50 miles, but then the last month it was all 65-75 mile days all on my own. Looking back those long days really toughened me up in the fact that it made those 40 mile bike days seem like nothing and go by really quick. I usually averaged around 150+ miles a week on the bike in the last month leading to the race. I did not do as many long runs this year compared to last, but did a lot shorter speed work and hoped that my endurance was still there. With the swim I just made sure that I made the workouts count and made those workouts as tough as possible.
Despite the setbacks in terms of the crash and lack of tri-racing compared to last year, I did feel stronger this year than last. I knew how to recover better, train harder, and get stronger more efficiently. Did my best effort to also be at racing weight by the time the race started, I could've done a bit better but I was close. I also believe that the last week of training before the race, I did some good workouts but made sure not to overdue it. I felt fresh.
Like all the big races that I do, I never sleep well the night before the race. I didn't look at my clock when I went to sleep, on purpose to not freak myself out that I'm not going to get enough rest, but I think I was probably in bed for 8 hours and maybe slept 4-5. I got out of bed at 3:40 before my alarm went off at 4 am. Had my pre-race smoothie (2 bananas, 1 beet, and 5 dates) and drove to Santa Cruz.
I arrived a bit later than I wanted to, about 20 minutes before I had to start heading to the beach. I got everything I wanted to get done and started to head down. One of the big concerns of the race, from last year, was the sheer cold that the ocean swim around the pier was going to be. I did a tri there last year and the water was so cold my face felt literally frozen. When I got into the water I just dunked my head in to try to get somewhat used to the water cold. It was good to find out that the cold was not as bad as it could have been. Did my warm-up and got ready to be the first group (males 24 and under) to start the race. When waiting for the start of the swim I used to look around and be very intimidated by how fit all these guys looked. Over my racing experience I realized that most of these guys have strong exterior looks about themselves, but really weak engines for racing. So I was not as intimidated as I used to be.
The gun went off and the 70.3 miles of racing began. I tried not to let the adrenaline get to me so I started the swim a little conservative and stayed in the middle of the pack. Luckily in this race I didn't get a major kick or elbow to the face like I have in other races. The swim is around the Santa Cruz Boardwalk pier. On the way to the turnaround I put my head up to make sure that I was on course and heard the roar from some of the sea lions that chill under the pier all the time. Despite a few unintentional swallows of salty water, the swim went rather uneventful. I was surprised to see only a small handful of the strong swimmers from the wave after me (men 25-29) pass me. I'm not saying that the swim was easy, my arms were really burning the last 1/3 of the swim, but I felt I paced it pretty well. I also made sure that I didn't stray too far off course and made my time out there longer than I have at previous open water swim triathlons.
Weeks prior I tried to predict my time for the 1.2 mile swim. I thought that I'd be in the water for around 37-38 minutes. I got out of the water and my watch said I did the swim in a little over 33 minutes. Sweet! For me a real motivation killer for a race is to have a weak swim since that slow time will haunt you for the rest of the day. I ran up the beach, past a few people cheering and made the ¼ mile run to my bike. I got my wetsuit off rather quickly, got my bike shoes on, helmet/sunglasses on, and headed to the start of the bike course. Right when I got pedaling I took a good sip of water and ingested a bunch of salt water that must have been in my mouth from the swim, yuck.
I knew that I was going to be on the bike for at least 2 hours 50 minutes, but a huge factor was going to be the wind. I have done the bike course a few times prior and it always has been a mild headwind on the way out, but once you turn around and head home the tail wind really helps you out. With that in mind I setup a plan to go a little harder on the way out, and have the wind help me makeup for that effort on the way back. I knew that after about 10 miles into the bike this ride was going to be different that last year. The year prior I'd say roughly 100 people passed me on the bike and just flew by. This year, not as many people were, and if they were it was a slow crawl by me. I still am a weaker cyclist than I would like to be, but this is good to see that less people are passing me. I did some games of tag where a person passed me, and then I would pass him back a mile later, mainly since we couldn't draft off each other. I had a sip of my homemade gel (4 blended dates w/ water) every 40 minutes then go to commercial gel packs. Also plenty of water, the last thing I wanted was to be dehydrated when going into the ½ marathon. The first 20 miles I felt really strong. After that point I was starting to feel the burn in my legs come in and just tried to break up the race into pieces. Just tried to tell myself to get to the half way point of the bike and the wind will get me that speed on the way back.
When hitting the half way point of the bike, 28 miles I took a look at my watch…1 hour 20 minutes, Wha-Bam! With the head wind I was already on pace to go faster than I could have thought of. If I just kept that I could easily get a sub-5 hour total time, which was in the back of my mind before I started the race.
When I started heading back to Santa Cruz, I felt so slow. My legs were starting to really hurt and it felt like I was going nowhere. My body felt like it was pushing really hard which was the more aggravating thing. Most of the last half of the ride I did not pass anyone, nor did anyone pass me. There was this guy roughly 200 feet ahead of me and it was that way for about 10 miles. I noticed that despite my sluggish speed and increased effort, he was not gaining ground on me. It seemed that everyone on the way back was slowing down. Then at once it almost tipped my bike over…it was the wind. That wind that I was hoping for the push me from behind was working against me. I didn't notice it because I was more concentrating on pedaling hard. Miles 30-50 was a long hour of grinding towards home. The weather was a curse, but also a blessing (besides the wind). There was no sun, really overcast and sprinkling rain. It was nice to not worry about overheating, but I saw a few people slide and fall which is never fun, especially in a race. I had to wipe my sunglasses of water a few times. Since my hands weren't doing much movement most of the ride, it was hard sometimes to change gears or squeeze my water bottle. My gels also were a lot more solid, due to the cold, than what they should be. In a competitive aspect, it may have been a disadvantage that it was not hot. My body was pretty lean for this race and I would've benefited having it a little hotter so some of my bigger sized would burn up faster.
I tried to breakup the last 20 miles of the bike in pieces like previous parts of the race. I knew that once I got to about mile 50 we would be turning back into residential streets with people cheering to take the mind off the pain. Once I finally turned onto those streets of flat residential area, the last 6 miles weren't as bad. I turned into the transition and got off the bike. I checked my watch again, I did the bike in 2 hours 48 minutes. Still better than the 2:55ish that I thought I was going to get, but I had hopes for a low 2:40 after how I was doing half way through the bike. I knew I gave the bike a good effort, the weather just wasn't my friend today, or anyone's. My feet were almost frozen solid and the first few barefoot steps to my transition area were really tough on my feet, but I was glad to get off the bike and start my strength – the run.
After taking a few extra seconds trying to put my socks on my frozen feel I started to head to the run course. I never forgot the pain of the last 6 miles of the run last year. Knowing this I started a bit more conservative and eased into a good pace so I could get a better time. I felt really good after the first mile and checked my watch. I was at a 6:40 pace. I needed about a 6:55 mile average to get a sub 5 hour ½ ironman so I decided to slow down a tad even though I was feeling really good. I knew the real pain was going to come soon. The first 4 miles are along the Santa Cruz coastline and gave a good breeze to keep us runners cool. I checked my pace at every mile marker and was still at a sub 5 hour total time, I felt pretty good. Some of these guys were really pushing it and I noticed them breathing really hard as I passed them. I was practically breathing through my nose at this time, felt effortless almost. The next 4 miles was on a windy/hilly dirt trail. I made sure I was eating enough calories at this point, and made sure I was keeping a steady pace. Every aid station was about a mile in between, but felt a lot longer. I took 2-3 water cups each station. 1 to drink, and then 1-2 to pour water over my head. I was passing a few of the runners, but not as many as last year for sure…not as many people have started the run yet. I did get past by 2-3 runners during the whole run compared to 0 last year.
I got back on the roads at about mile 8 and did a checkup on my running time and realized I was now at a 7.00+ mile pace. Wtf happened? I should've known that the 4 miles of trail running was really going to mess of my pace. Then I knew the damage was done, no sub 5 hours this time. I just had to keep going strong.
The last 4 miles seemed like forever. My quads were burning and my hamstrings were really feeling it from a tough bike. I saw the beach for the last 3 miles in the distance, but it seemed that it never got any closer. There were crowds on the path cheering us runners on for the last stretch, but I barely noticed anything because I was starting to feel really terrible. My head was just watching where my next few steps were going to be most of the time. Every step hurt, it felt that I could barely breathe, and to make matters worse I was running the opposite way of people who were just on the first few miles of their run and they looked great…some were even laughing and chatting with other runners, I felt so miserable. It was also at that point where the pain from the swim from the shoulders, and my upper back muscles from the bike, were really starting to ache.
The last ½ mile is on the beach which really is tough. Right before that point, however, is a downhill portion with a sharp right turn to head onto the beach. I almost lost it right there at the turn. I didn't have the strength to really make that great of a turn, with that increased momentum from the downhill, so I kind of ran into the metal barrier that blocks off the spectators and guides the runners to the beach. Once on the beach the movement was really slow. The sand was really dry and thick so it was hard to get any momentum. Finally the finishing chute was in sight. Passed another competitor with about 50 meters to the finish and he gave me some encouragement and a pat on the back. It was nice of him, I wish I could've returned the favor but I could barely think straight at that point.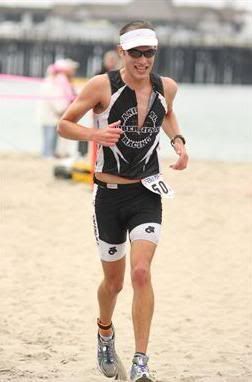 Right when I went over the finishing mat I just put my hands on my legs. A volunteer asked me if I wanted to head to the medical tent. After a few seconds I said no, I had too much pride, but she was nice enough to help walk me to the bleachers. It probably wasn't the smartest thing to do after a long race, but I just sat down for about 5 minutes with my head down. Everything was tightening up; a couple of other athletes were doing the same thing. Made the pain a lot more severe. Although I can't remember a time before feeling that much pain, I did feel like a million bucks. I came here and did what I planned to do…give my best. Ended up 72nd overall (out of 470) and 5th in my age group of 20-24 (out of 20). Going to strive for bigger things in the next few years, but for only swimming/biking for about 1.5 years, I'll definitely take it.
Looking back I have a feeling that something that really hurt my ½ marathon pace was that I wasn't passing as many people on the run as I am used to. Although this sounds bad, I take it as a real positive. It means I started the run with more of the top contenders Last year I started the run with a lot of people who were better cyclists than I, but overall less competitive. That may have been the biggest thing that hurt my pace. Another possibility is just that I did the bike harder this year than last. I do not, however, regret going fast on the bike and hurting my run time. Overall this gave me a better total time. I also can't deny that this year my running was the least of my concerns, so my run training was a lot less than last year….probably 1-2 less days a week of running. Considering my lack of running, having a 1:33 ½ marathon should be a blessing. I do remember that the pain on the run really started at about mile 6 last year. This year it happened about two miles later. Not sure what to think about that just yet. Did I not push the run as much as last year? Am I a bit stronger this year? Overall I say the pain was worse this year after it was over, but I think I delayed it more this year…still have to think about my opinions on this one still. Also it seemed that although the race was a bit more than 5 hours, the time went by relatively fast. I think a lot of it was because I was more concentrated on racing against people, and less about just going the distances.
This was my "A race" for the year, and therefore I'm going to take 3-4 weeks off of total training to get my body free of all those little "niggles" as they say. It may be tough after about a week or so of not doing anything, but I think it'll be good physically and mentally to take a step back from all those hours of training. Who knows how next year will turn out, but with better/smarter training I still see a lot of improvements to come.
1.2 mile swim – 34.09
56 mile bike – 2:48.45
13.1 mile run – 1:33.14
Total: 5:03.40