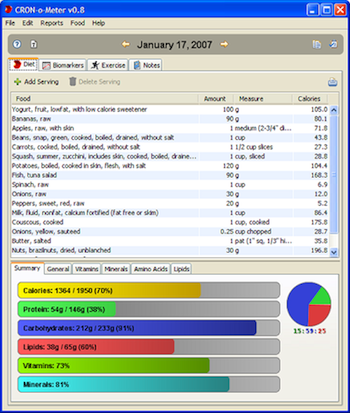 Do you want to get the most nutrition for the particular amount of calories you consume?
CRON-O-Meter is cross platform ( Java! Yay! ) software that will make achieving that goal easier. Just type in what you are eating or plan to eat. CRON-O-Meter will show you how much nutrition you will get for the calories you will allow yourself to consume.
CRON-O-Meter is free software. That is, "free" as in "freedom" software, more commonly known as "open source" ( the freedom to see and alter the source code ). CRON-O-Meter is also free as in "free of charge".
It was made by a programmer who is also into CRON ( calorie restriction with optimum nutrition ). Those people believe that life can be extended by eating fewer calories while still getting the same amount of nutrients.
You don't have to cut back on your calories to use this tool, but it is very useful to see if you are getting a good amount of nutrition for the calories you consume.
Jeff Novick RD who told me about this software encouraged to try two interesting experiments. One was to try typing in various meal plans, including several low fat ( ~ 20% calories from fat ).
The other experiment was to type in 500 calories ( about the calories in a big mac ) of vegetables and compare the nutrition you get there as opposed to 500 calories of other foods.
I tried it with broccoli ( 9 cups cooked ) and was blown away by the amount of protien in broccoli.
Anyway, you can get the software for free of charge here:
http://spaz.ca/cronometer